Ian Headley arrived in Tasmania at the beginning of 1976 as an 'escapee' from Melbourne. Ian is the son of a master builder and has continued in his father's footsteps. Ian has been involved in the Tasmanian building industry for over 35 years and is currently an Accredited Builder, Accredited Building Designer and Greensmart Professional.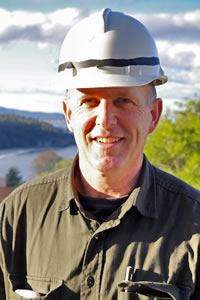 Ian's design and building work has involved most aspects of residential building techniques. These include concrete precast panel construction, traditional timber framed and brick veneer dwellings, through to pole-framed mud brick and rammed earth construction, as well as significant heritage restoration and extensive renovation work.
From simple heritage styles of earth, rustic timber and stone, to the modern architectural minimalism of reinforced concrete, steel and glass, Ian has extensive experience in both the technical design elements and practical construction of these varied building options.
See examples of our design and building projects, and our renovation projects.
Awards
In the few times he has entered awards, Ian has won the HIA Victorian Tasmanian combined division for Individually Designed Homes and was nominated for the HIA National awards for Best Custom Built Home category. He has also won other Tasmanian Custom Kitchen Design and Renovation awards. Our greatest reward, however, is the satisfaction of our clients.
Training
As an accredited builder, Ian is continually involved in Professional Development courses upgrading his knowledge and skills in the building profession. Training courses attended include:
HIA Greensmart Professional accreditation
Electrical testing and tagging
Workshop in Tasmanian domestic building contracts
Tasmanian Residential Code Review seminar
Engineering seminars on building condition assessment
Health and Safety: OH&S certified and OH&S Construction White Card holder
License to perform High Risk Work card holder
Extensive and continuing seminars on building and kitchen design, new building products and techniques
Planning for Heritage Projects seminar